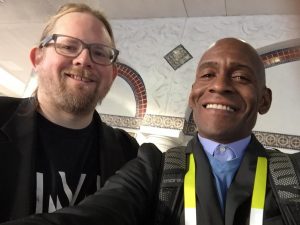 Membit Names Chief Communication Officer
Markerless Augmented Reality App taps communications Veteran
Membit™, the first Augmented Reality Photo Sharing App for iPhone, announced today James A. Pearson will join the company in an advisory role as Chief Communication Officer. Membit's patented Human Positioning System™ allows for markerless Augmented Reality to be used anytime, anywhere, by anyone. When users make a membit, they leave a public or private image in place for other Membit users to engage and discover. The recently launched app was described by MacWorld as  "About as close as we got to seeing a time machine at TC Disrupt". Membit is a new way to share memories as it allows your pictures to be viewed in the exact location they were captured.
Pearson began his career in Chicago at Harpo Studios Inc. where he worked for Oprah Winfrey and John Hughes' Hughes Entertainment.  He has worked globally for technology and media companies developing corporate communication campaigns, crisis response and public relations strategies.  Pearson will report to Membit CEO Jay Van Buren as Membit's organic growth develops and draws more investor interest. He will also assist the Membit team in New York and London to develop new content and business partners including but not limited to: Untapped Cities, Caroline Burns of NBC's The Voice, The Hip Hop Film Festival and Atlas Obscura.

"I couldn't be more excited about formalizing this advisory role with an app that I believe is changing the way people share photos, when and where they happen." Said James A. Pearson, Chief Communications Officer, Membit.
Prior to Membit, Pearson served as of Vice President of Global Communications for Shazam, where he developed consumer and B2B communication strategies for one of the world's most popular apps. His work included: the launch of Shazam for Brands, Shazam's NBC Today Show, Citi Summer Concert Series integration, and recent announcements such as Fox's Beat Shazam with Jamie Foxx, Shazam's integration with SnapChat and the recent milestone of achieving a billion downloads. Prior to Shazam, Pearson has also served as VP of Communications at Brightline, EVP of Communications at Grooveshark and as Director of Corporate Communications at Amazon, Audible.com, on The City of Newark Workforce Investment Board, and Razorfish.
"James is a tech industry heavyweight and I'm delighted to have him with us as we start to get more attention from professional investors and partners " Said Jay Van Buren, Co-Founder, Chief Executive Officer, Membit.
In May, Pearson will discuss Membit and share industry expertise in digital as a keynote speaker at the fifth annual TAU Innovation Conference in Tel Aviv. The event is a unique, large-scale international event led by StarTAU, Tel Aviv University's Entrepreneurship Center, and RAMOT Technology Transfer Office. Pearson will speak to Israel's best entrepreneurs, industry personnel, diplomats, investors, and the academic community who come together for a week of education, investment and networking. The event gathers more than 7,000 local international business leaders and startups including entrepreneurs, VC's, innovation managers, accelerators, incubators in Israel's growing technology market.
Download Membit at iTunes: https://itunes.apple.com/us/app/membit-augmented-reality-photo/id963524940?mt=8
Save
Save
Save
Save