Membit Inc. is excited to announce "Ascension," a breathtaking augmented reality art installation by Richard Humann and presented by Spark Art Management. On April 24, 2017, the rooftop viewing was held in Long Island City over the beautiful Manhattan night sky.  Richard Humann premiered his "Ascension" installation, in conjunction with the European Cultural Centre and the GAA Foundation, during the 2017 Venice Biennale in Venice, Italy. The European Culture Centre will host its exhibitions "Personal Structures" at Palazzo Mora on the Strada Nova in the Cannaregio sestiere of Venice, which opens on May 13 and closes on September 26, 2017.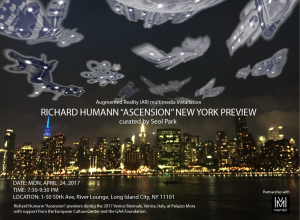 "Whereas Huxley wrote of the doors of perception, Membit is the window I can peer through to see a world impossible in our own. Without Membit, the stars would be a little less bright over Venice this summer." – Richard Humann, Artist
Richard Humann creates an alternate universe within our own universe in his location-based augmented reality (AR) multimedia installation, "Ascension." The work consists of twelve imaginary constellations suspended in the sky over the magical city of Venice, and can be viewed using an augmented reality app, Membit, on a smart phone or tablet. The constellations that we recognize today are based on a 2,000 year-old mythology derived from the ancient Greeks. Their heroes, villains, mortals, and gods ascended into the sky for all eternity. Inspired by the seminal work of comparative mythology, "The Hero with a Thousand Faces" by Joseph Campbell, Richard superimposes a new constellation system over our existing one. He creates a new mythology and the new folklore, by taking popular figures of the 20th Century and then developed a visually metaphoric and encapsulated story arc that accompanies them.
"I see a lot of exciting possibilities in augmented reality as a technology environment through which to present artistic content and have been collaborating with artists in exploring that realm. I have found Membit to be such a poetic and emotionally engaging platform, perfect for bringing Richard Humann's vision for Ascension to life." – Seol Park, Curator, Spark Art Management
"Because of our patented Human Positioning System™ (HPS™) Membit basically allows people to annotate the world. You can put any graphic anywhere you want so we expect Richard to be just the first of many artists who will use Membit to create art of various kinds. Membit will be the ultimate tool for letting people tell a story about a place and that includes stories of what happened there and stories of things that are only imagined" – Jay Van Buren, Co-Founder / CEO Membit Inc.
Richard Humann – Artist Richard Humann lives and works in Brooklyn, NY. He has been a working artist in New York City for many years, having multiple solo and group exhibitions. He has had several solo and group, national and international museum exhibitions, including the Kemi Art Museum, the Tampere Art Museum, the Tornio Art Museum, the San Cristóbal Art Museum, Macao Art Museum, and Kaohsiung Museum of Art. Humann has been included in both the Arbitat Biennale in Taiwan, and the 50th International Art Biennale in Venice, Italy, and will be representing the United States in the upcoming 2017 Karachi Biennale. He is a recipient of grants from the Brooklyn Arts Council, the New York State Council on the Arts, and the Pollock-Krasner Award. His artwork is included in the Nokia Collection, the Sackner Collection, the Moen Collection, The Collection of David Byrne, the Buhl Collection, and the collection of the Sarah Hildén Art Museum, among many others.
Seol Park – Digital Experience Curator Seol Park is a digital experience producer-curator and frequent collaborator with other artists and occasionally consumer brands as well. Specializing in experiential exhibits development and brand activation, Seol Park has advised American and Asian corporations including Morgan Stanley, Microsoft, Chevron, Crowell & Moring, Four Seasons Pty. Ltd., Miller Coors, Palm Beach Show Group, and is currently serving as advising curator for Intel. Seol's academic background spans across a wide art historical time periods and media. Stemming from her study in Human-Computer Interaction (HCI) Design, incorporating cutting-edge digital technology in artistically rigorous presentations has become a strong component of her current producing practice. She has recently staged an augmented reality (AR) group exhibition in Miami Beach for The Satellite Show during the Miami Art Basel Week in December 2015, as well as a single-artist AR exhibit in Ireland for the Skibbereen Arts Festival in July 2016. She published articles and was quoted in various publications including Media-N, Journal of the New Media Caucus, 2010 KOREA TOMORROW Show Catalog, Redwood Library Paintings Collection Catalogue, and Study of Cultural and Social Approach to the Interaction Design of Mobile Phones.
About Membit – Technology Partner (Jay Van Buren, technology counsel) Membit is an Augmented Reality app that lets you pin an image to 3D space and leave it there for other people to see. Membit's patented Human Positioning System (TM) allows for markerless Augmented Reality to be used anytime, anywhere, by anyone.