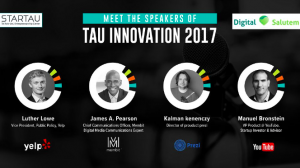 Membit Chief Communication Officer, James A. Pearson, joins a panel of technology leaders as a speaker at the TAU Innovation Conference May 7-9, 2017 at Tel Aviv University, Israel.   This will be the fourth year in a row that the event will bring together entrepreneurs, industry leaders, investors and academics.  The Innovation Conference features a jam packed schedule of 30 events in 3 days.  Some of the featured events include TLV Startup Challenge, Rothschild Tech Talks 2017, Global Startup Avenue, VIP cocktails, Practical Seminars for Startups and more.
James shares the stage with technology leaders: Manuel Bronstein, VP Product, Consumers YouTube, Luther Lowe, Vice President, Public Policy Yelp, Kálmán Kéménczy, Director of Product Prezi, Ayelet Noff Founder and CEO Blonde 2.0.
James will also be one of the judges for TEL AVIV Start-Up Challenge 2017.  After their initial pitches, the top three startups will pitch live to a panel of leading investors, renowned judges, world famous speakers, and over 6000 conference participants.
Learn more about the speakers and events TAU Innovation Conference site here.