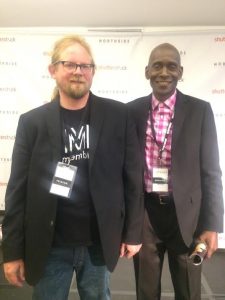 We got the free toy figurine at the Mailchimp party at Brooklyn Brewery.  We wiped our badges off from beer.  We heard some great speakers, and we spoke.  We were inspired by fresh tunes.  And somewhere between Metropolitan Street and McCarren Park in Brooklyn we discovered how much of a great fit Membit is with festivals.
Here's the wrap up of our Northside Festival activities and activations.
Andy P. Smith of Free Williamsburg gave us all the feels about his review of our master class at the Shutterstock Stage at The William Vale Hotel.  He gets us, he really does.
"American stock photography company Shutterstock helmed a Masterclass Stage focusing on practical, tactical insights and lessons from designers, developers, and creatives. One of my favorites of the week's events included a demo at The Shutterstock Stage from Jay Van Buren, co-founder of Membit, a unique Augmented Reality product with a patented Human
Positioning System. Van Buren spoke about the interaction between people people and places, saying that places make us who we are. "I was here," he said, speaking to a very fundamental need to connect with a location. The Membit product itself is integrating virtual art and surprises throughout the festival, truly merging the physical and virtual world in a groundbreaking fashion."
So a big thank you to Shutterstock, Northside and The William Vale as well as the amazing audio video team assisting Jay through his talk.  We could not have impressed Andy without you.
Next up to report is that we got into the festival spirit and shared some beers with the Northside family.  Membit had fun partnering with our sister company Early Adopter in the Augmented Reality Happy Hour which was hosted at Teddy's Bar and Grill.  The event was a fever pitched blast of cold beers and festival friends.  Membit and Early Adopter also partnered on the Northside Beer Tree activation where people could find the legendary hidden Beer Tree using Membit, document their find and claim rights to a free beer later.   Kudos to Chris Gaughan of Early Adopter who spearheaded this wild ride and we were thrilled to be featured in the official Northside app, the official printed Northside schedule book  as well as sweet printed handouts at The William Vale. (my schedule book was well worn by the time I snapped the pic)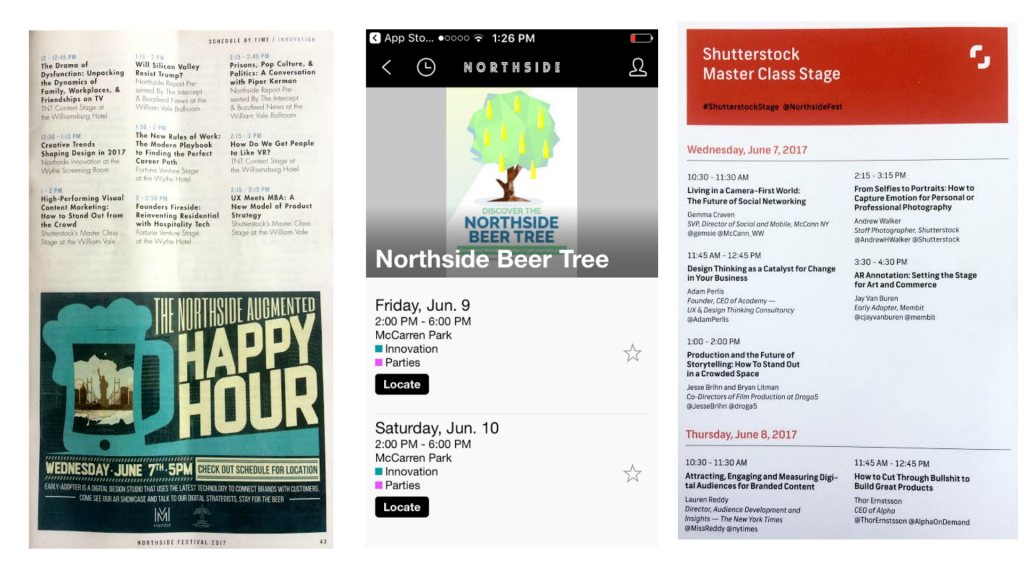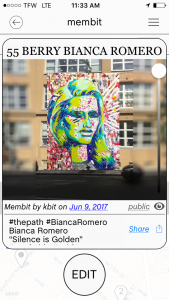 In conjunction with Augmented Reality Happy Hour, Membit partnered with curator and party tour guide Andrew Lockhart of Black Swan Projekt.   Black Swan and Membit created an augmented reality art show on Berry Street in Brooklyn between the blocks of  N 8th and N 12th.  This art show "The Path" features the work of 12 artists and offers a dynamic look at what a plein air AR gallery can look like using Membit.  Aside from the art show we had a chance to hang out with Andrew and Pablo Power, one of the artists in the show.  We were able to catch up together at the Mailchimp party I mentioned before.  Yeah, the one where we got the free monkey toy.  It was cool.  But back to the art!  The work will be on exhibit through September.  Further events and meet ups will be announced regarding the show.  Here is a piece called "Silence Is Golden" by one of the amazing artists, Bianca Romero who was also instrumental in bringing other artists to participate in this show.   Thanks Bianca!  Stay tuned for further features of this art show.
The grand finale of the festivities for Membit was our partnership with Dutch Culture USA for their fabulous Northside Innovation Party hosted on the rooftop of the McCarren Hotel.   The party was totally sold out and rumors have it that there was quite a line to get in as people shifted in and out.  We felt honored to be part the event and share select Dutch content via Membit as well as mingle with the party guests.  We had a chance to go full on creative imagination about augmented reality as people approached us to learn more.  We also were stoked to catch up with Daniel Steadman at the party.  Daniel is an entrepreneur, investor, and award-winning film director.  He is the founder of Northside Media, Brooklyn Magazine, Northside Festival, Taste Talks, and SummerScreen.  We look forward to jamming out more ideas with him!
Membit truly got our #hustle on at Northside.  And hell yes we want to do it again.  See you next year!