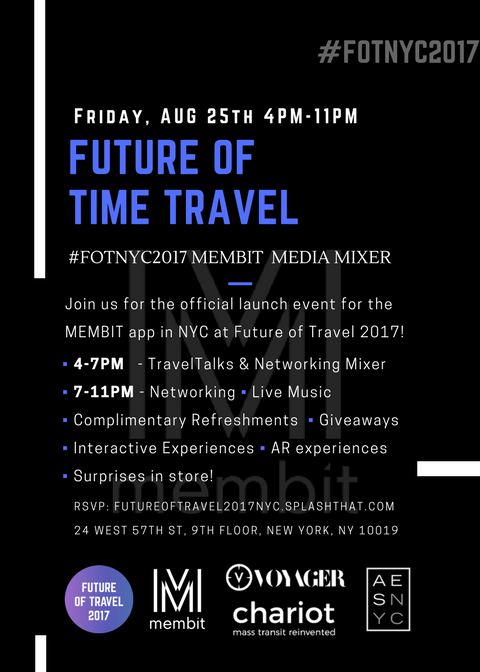 WHEN: Friday August 25th 4-11 pm
WHERE: VENUE57 24 West 57th Street, 9th Floor New York NY  10019
RSVP: https://futureoftravel2017nyc.splashthat.com
Join Membit as we blast off into the Future of Time Travel!  The event is part of Future Of Travel organized by our friends at The Fold who have offices in both NYC and Tokyo.  Our amazing hosts are AESNYC.COM Venues.  We're looking forward to meeting up with other travel sponsors like Voyager and Chariot BungeeGirl and sharing all the cool things we can do with our augmented reality photo app Membit.
Please join us as we:
Screen an unreleased secret video for the first time
Announce new partnerships
Have fun with our friends with Membit (prizes included!)
Enjoy some music and cocktails in a top notch Manhattan venue
In addition to the evening party there is also a Future of Travel Media panel that Jay, CEO of Membit will speak on earlier in the day.
As your captains, with all the sponsors and organizers, we invite you to join us as we embark on The Future of Time Travel.
Grab the app here and come join the party.  #FOTNYC2017